What are cookies
Cookies are a small piece of software or codes that is used by websites to track its users. When you go to a website for the first time then it send a small file to its user's computer, which tracks the user's behavior while they visit a website.
Trust worthiness of cookies
You may be familiar with the term "first party" cookie-it means that if you visit a website that provides its cookie to your computer's hard disk. There are some websites which do not provides cookies to its users; instead some other thirty party website provides cookies on their behalf-this type of cookies are called third party cookie. So, first party cookies are in most cases more trust worthy than the third party cookies. But there are some exceptions. For example, if a website is new and has little credibility or even has malicious purpose, then if they provide you the first party cookies which might be less credible than some well-known third party cookies. Remember that the best part of the first party of cookie is that it can be read only the website that you pay visit to.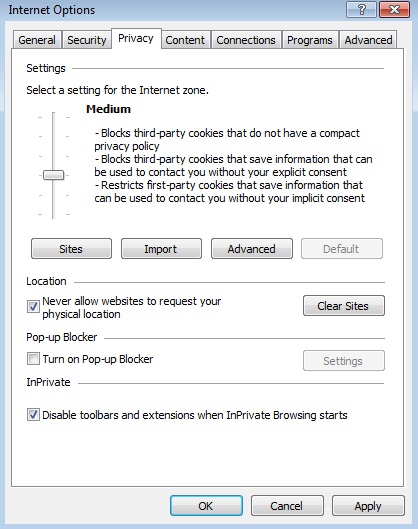 What if I do not want to enable cookies in my website?
Some websites require you to enable cookies in order to view their websites such as ecommerce sites like Amazon and eBay.
Types of cookies
They can be set to your hard drive for a short time or for a long time. The cookies that are stored in your computer only when you visit a particular website and that cookies get delete automatically once you close the browser window is known as temporary cookies. The other type is known as persistence cookies when stays in your hard drive even when you close your browsers. The purpose of the long term storage of cookies is that they when you revisit a site, it can recognize your and they data is importance for tracking software to show the number of revisited users of a site.
Why we need cookies?
There are many useful benefits of having cookies and most are for the website owners. Though some cookies are very helpful to you since they know what you like and dislike seeing in advertisements shown on the little ad space on most of the popular websites. But the primary use of having cookies is that a website owner can track his visitors such as the number of new visitors, returning visitors or the nature of the visitors.
How long cookies stay on a computer
Depending on the purpose and type of cookies, the longevity of a cookie can be varied. If a cookie is designed to track the users then it can stay as long as a few years unless you delete them manually-these cookies are known as visitor identifier cookie. On the other hand if a cookie want to track the session of your visit (duration of your visit of a website) then it can be auto-deleted when you exit from the website.
Note: all the cookies are browser specific. If you visit a site with Firefox and then visit the very same with Microsoft Explorer, then you computer will have two different cookies, one for each browser.
So, cookies are a very useful to track users, but it may not always as useful the normal Internet visitors who visit websites only for information or to buy something. It is better to keep you cookie settings in the medium level who in general means to allow the first party cookie and disallow the third party cookies. If necessary then allow the third party cookies manually, not automatically.
Another useful article that might be help about learning cookies and web browser is Internet Explorer Security