VPN is a trusted and secure network, which use tunneling and protocol(PPTP,L2TPIPSec) to make data transmission through the public network.
RAS: remote access service used to access server remotely from client terminal using dial-up connection.
IAS:Internet authentication service is used to remotely and centrally manage all RAS server and keep remote access policy centrally in a single location.
RADIUS: it is an authentication protocol which is used with RAS serer always become client of IAS serer.
 How to create VPN in Windows 2003?
Open routing and remote access from the administrative tools.
Right click on the server name and then click on "enable routing and remote access".
click Next
Select "custom configuration".
Click Next and check VPN access.
Click Finish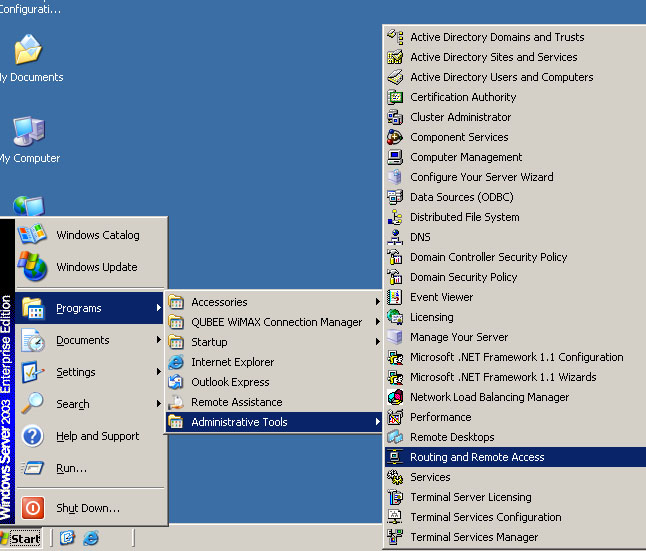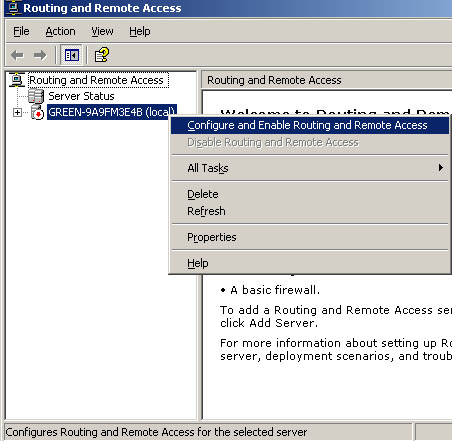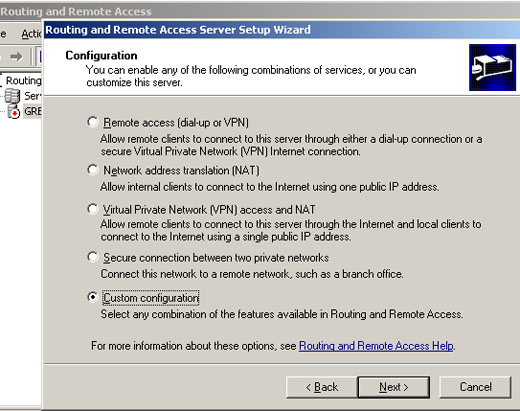 Setting permission for dial up connection
Open active directory users and computers
Select the user whom you want to grant dial up permission.
Click on properties of that user
Select dial in tab
In the remote access permission section check allow access.
If you want to allow only a specific called ID that the user need to use to connect to your
Server then select the option of verify caller ID and type the phone number of that user.
You can assign a static IP address to assign a IP for that dial-in client
From a client machine to connect to a RAS server using dial-in
Open network connection of your PC.
Click on create a new connection
Click Next.
Select connect to  the network at my workplace
Click Next and then select virtual private network connection.
Put the server IP(RAS server IP)
Click Next and Finish.
How to configure RAS server
Go to administrative tools and click mange your server
Click "Add or remove a role" and click Next.
Highlight remote access/VPN server, click Next.
Select remote access and select VPN or remote access or both. Otherwise you can select the custom configuration and then select the options as per your requirements.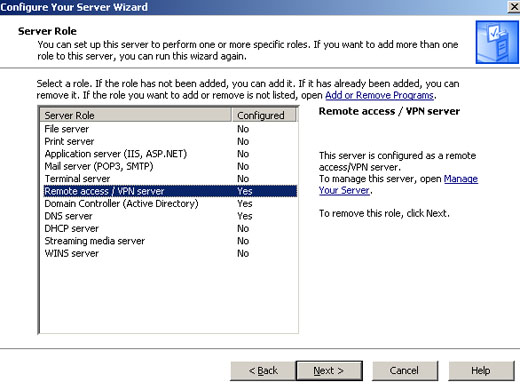 Creating remote access group in active directory
Create  a global group in active directory.
Add a user to this group.
Right click on the user and open properties.
Select dial in and then check "control access through remote access policy".
Now, open routing  and remote access
Right click on it and select new remote access policy
Next, next.
Set up a custom policy
Name it  and click Next.
Add
Select Windows group
Add that global group
Grant remote access permission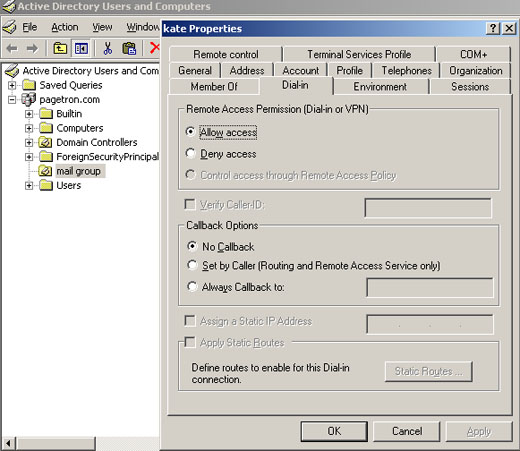 How to enable Software routing in a VPN server?
Assign IP to both of the LAN card on your VPN server
Ping both the IP to test that the interfaces are up and working
Go to admin tools and select routing and remote access
Right click on the machine or computer name
Click on Configure and enable routing and remote access
Click Next and select custom configuration
Click Next and select LAN routing
Click Next and finish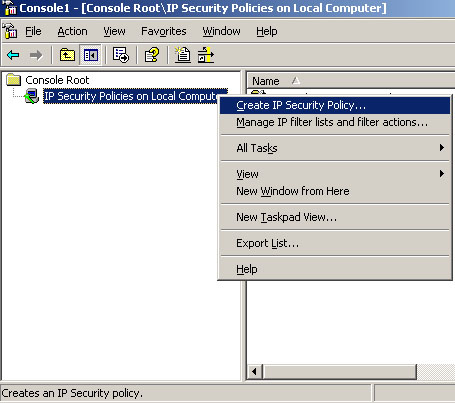 Setting IP Security Policy on Windows Server
Type mmc on the run option.
When console opens click on the file menu and select add/remove snap-in and click Add.
Select IP security policy management and click Add
Select local computer and click Finish.
Select IP security and policy on local computer and right click on it
Click on create IP security policy.
Click Next and name it.
IP security wizard will open
Uncheck the option " remove active the default"
Click finish and then click on Add
Click Next and select this rule does not specify a tunnel
Click Next and select local area network
Select all ICMP and then click Next