Fortunately, there are a number of network security courses out there that meet the current needs for security expertize. This post will discuss about the top five network security courses that are both highly sought-after and popular among the IT professionals.The following graph shows the current demand and forecast for all the five network security courses discussed in this post.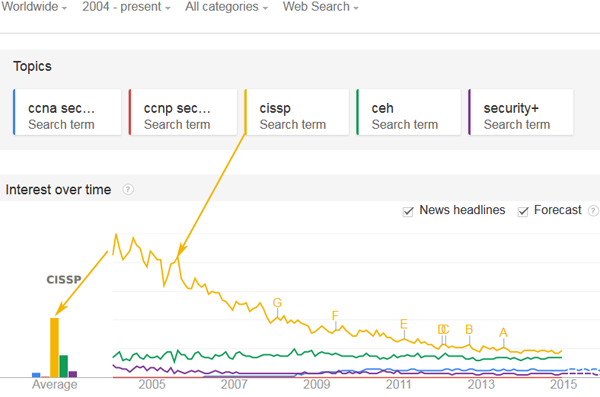 When it comes to network security, many IT professionals think about securing the networking devices such as routers, switches firewall, IDS, IPS etc. But you need to know much more than that for securing a network and to gain the required skills-set you may have a look at the following courses.
1.CCNA Security
This entry level Cisco certification is the gateway to build a career with Cisco security products. To take this exam, you must pass CCENT or CCNA or any CCIE level certification exam. The course contents includes
Common Security Threats
Security and Cisco Routers
AAA on Cisco Devices
IOS ACLs
Secure Network Management and Reporting
Common Layer 2 Attacks
Cisco Firewall Technologies
Cisco IPS
VPN Technologies
Though earing CCNA security certification process is not a straight forward process, you will have better job prospect in the network security field once you pass this exam. Beside, you can progress to higher level in the career path by taking CCNP security exam.
Average salary of CCNA security professionals: $40000-$80000+, depends on the number of years of experience.
2.CCNP Security
You can aim for this exam after passing CCNA security if you are serious about building career in network security and want to reach top level in the career path. To earn CCNP security credentials you need to pass four exams, which is quite lengthy process since each exam. preparation takes months and things become more difficult if you already doing a full time job. But, it is well worth aiming or this certification because you can build a secure career on it, considering the popularity of the Cisco products in the IT world. You have to pass the following four exams to earn CCNP security certification.
Implementing Cisco Secure Access Solutions (SISAS)
Implementing Cisco Edge Network Security Solutions (SENSS)
Implementing Cisco Secure Mobility Solutions (SIMOS)
Implementing Cisco Threat Control Solutions (SITCS)
Career prospects:
Average Salary: $50000-$100000+,
3.CompTIA security+
This is a US department of defence approved certification program. If you are planning to enter the network security profession and looking for a course that can give you a head start, then you can take this security course. It covers most of the fundamentals of network security including identity management, access control, cryptography,PKI, hardening internetworking devices and services, various types of network attacks and how to mitigate network vulnerabilities and
Average salary: $44000-$94000+,
4.CISSP
CISSP stands for certified information security professionals, which. This course is one of the few security certification exams. that meets ISO/IEC Standard 17024. Though a CISSP will not get any vendor product specific know doing this course, but this course teaches a broad range of network security materials that every network security professional must have, even the IT security auditor.
CISSP Course outlines:
Access Control.
Telecommunications and Network Security .
Information Security Governance and Risk Management.
Software Development Security.
Cryptography.
Security Architecture and Design.
Operations Security.
Business Continuity and Disaster Recovery Planning.
Legal, Regulations, Investigations and Compliance.
Physical (Environmental) Security.
Average salary: $56000-$116000+,
5.CEH
Certified ethnical hacking teaches students how to attack and protect network with hands-on labs. They have effective labs that demonstrate how to scan a network, test vulnerabilities and secure both a network and systems. The course contents includes basics of hacking, footprinting and reconnaissance techniques, network scanning, enumeration, system hacking, virus and worms, session hijacking, hacking web applications and mobile platforms, evading IDS, firewalls and honeypots, encryption, butter overflow and penetration testing. It is well worth to do this course if you are deep interest network, system, web and mobile security.
You can CEH either in online or in an instructor-led classroom based environment.
Average salary: $54000-$130000+,
FAQs:Network security courses
Is it possible to start network security course without the knowledge of networks?
Since networking knowledge is the heart of any network course, you must have clear concept about networking, protocols and various types of internetworking devices. Though most of the security course will give you some sort of concept about networking, you will not realize the complete picture of a network unless you read or take some basic networking training. If you do not have any knowledge of network, then one of the easiest way to start is doing CCENT course ((Cisco Certified Entry Networking Technician) or take help from someone who has already done networking course and working in relevant fields.
How to choose the best network security course for me?
If you have little knowledge about network and security system then you can start with CompTIA Security+ course because this course also helps to develop important fundamental concepts that one needs to start his or her career in network security.
Should I do more than one certification?
Every certification servers it purpose, you will not understand how a security manger thinks by doing CCNA security because it is for those who wants to install, configure and manage security devices. To make security decision, you need broader level of understand and need to visualize the security landscape of your organization in relation to technological advancement. So, if you wish to be a security manager, you can think about doing CISSP after doing CCNA security exam. In case, you want to concentrate of pure technical aspect of security then you can take CCNP or CCIE security exams.
Is it necessary to take the certification exam?
If your primary goal is to learn and apply it to your business then you may not need to take the exam after completing the course. But, a certification helps to add credentials to a person's professional life as well as to the organization he works for. A recruiter will always prefer a person who has both certification and experience in networks over the one who only has experience.
What is the future of network security profession?
As you know that more than half of the world population are not using Internet. When a billion more users will start using the Internet, the growth of networking industry will exceeds the number of available network security professionals.
Reference: the average salary was calculated using the data from infosecinstitute and payscale.