Providing physical security to your laptop is your primary concern if you are a frequent travel or on the move. There are a number of devices and precautions that you can take to secure your laptop and even can get back your laptop if it gets stolen. The following are a list of devices and suggestions the you may consider as a solution to your laptop security.
Laptop security cables: it is both cheap and effective to keep your laptop safe. to install a security cable on your laptop, you laptop must have a security slot to hook on end of the cable , if you have no security slot on your laptop, then you can buy a glue-on adapter to stick it on your computer.
Theft alarm: there are a number of theft alarms built on motor sensors. Whenever an unknown person or a thief tries to touch your laptop, the sensor will sense the movement and automatically trigger the alarm.
Distance tracking: you can keep the distance between you and your laptop to a limit. When you cross that limit, the tracker will alert you.  You can also set a fixed distance between the laptop and a fixed thing; whenever that length is crossed you will get the warning as an alarm tone.
Antitheft card: this type of PCMCIA  card basically track the movement of laptop and send alert message to its users when anyone try to move the laptop form its static position.
Laptop tracking software: this software help you find stolen laptop. You have to install this type of software on your laptop and set the recommended settings. After that whenever you go online the location of the laptop is sent secretly to this software vendor's monitoring center. Even if the thief formats the hard drive of your laptop then also this software will not be deleted. Whenever the thief goes online the laptop tracking center will receive the message of the exact location of the laptop and you can get back your laptop with the help of law enforcement agencies.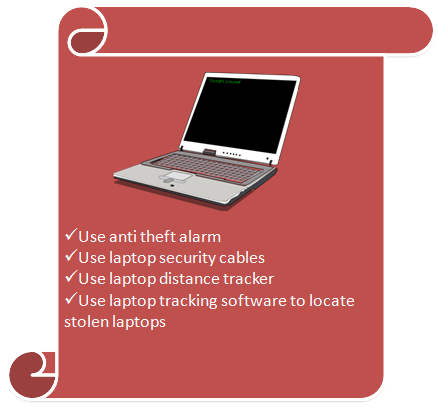 The above mentioned tips are for the physical security of your laptop. Apart from physical security you can take measure to protect the unwanted access to your laptop:
You must set the password on your operating system. If possible set a password to access the BIOS of your laptop.
You can use smart card to logon to your laptop. Another great way to protect the access is the using of biometric such as retina scan, voice pattern and finger print.
Encrypt all of your important files and data.
If you operation system has a guest account, then disable it.
Never use the free Wi-Fi or Wireless LAN access in a new place such as in a hotel or in a public place.
Finally always use antivirus and Internet security software and make sure that there are no key loggers or spyware in your laptop. If there are any spyware in your laptop and if you use secure socket layer of SSL, the spyware can get your useful information and send those sensitive information to the perpetrator's machine.
Related Posts: