Exchange server 2003 installation process:

Before installing exchange server on windows server you need to have installed the following Windows components:
ASP.NET
IIS
SMTP
NNTP
WWW
To install the above mentioned components you need to insert your Windows server CD in your CD or DVD drive and then select those components from the add remove components section in the control panel. To select SMTP, NNTP and WWW, click on IIS and then click details.
Remember that you can install Exchange in ADC or in any member server of a domain. The only thing is that the computer where you install Exchange must be a domain member. If you install it in a domain member server then you need to create a user from your active directory and make that user the member of the domain controller, enterprise controller, scheme controller. The following are the details steps you need to follow to install exchange:
Click on the setup.exe file in your Exchange CD.
Click on Exchange deployment tools
Click on deploy the first exchange 2003
New exchange 2003
Select the number 6 option to prepare your computer
Click next  and wait to complete the forest preparation steps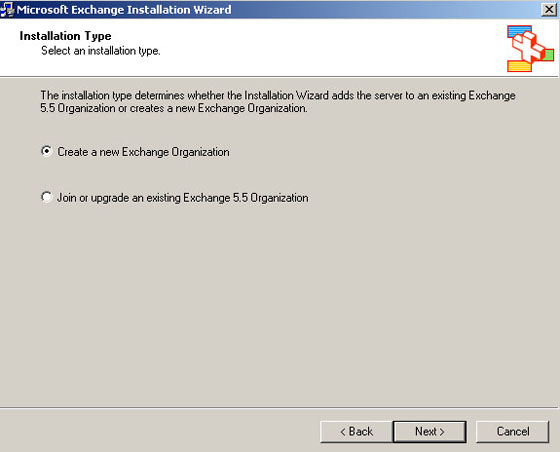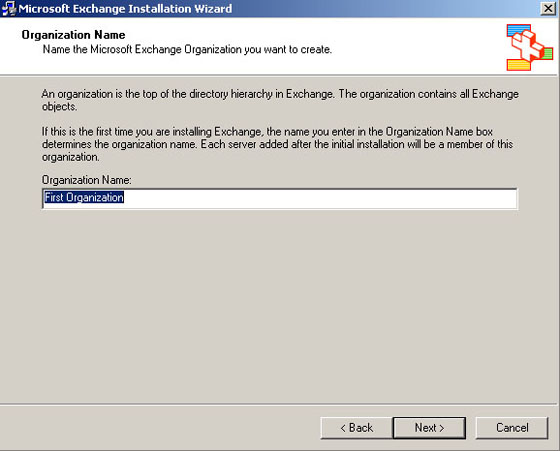 When the forest prep will be completed, you need to click on the number 7 option for domainprep of your server.Once the option number 7 gets finished, you need to click on option 8 to start the installation process of Exchange server.
Note:  Remember that you need to install exchange management tools on the domain controller or on the machine in order to use the active directory to create exchange users. If you try to create exchange users from your domain controller which is not hosting exchange, you will not see the option of mailbox creation or exchange task wizard.
 Post installation configuration
How to create mailbox enabled users:
Create a new OU under the active directory
Create a new user on that OU
Give a name and password for that user
Select the "create an exchange mailbox enabled user"
Finished
Display routing groups
To display routing and administrative group, open your exchange system manager and right click on first organization. Then select the following options:
Routing groups
Administrative groups
Creating a group under domain name
Group scope should be global
Group type is distribution
For users rights and permission use security
Now, select the users and add to this group
Setting storage limit to users
From active directory select the user.
Right click on the user name
Click on properties
Select exchange general tab
Click on the storage limit
Uncheck the default settings
Set a value to issue warning at
Click ok.
Applying a mailbox policy
When you install the exchange by default the first admin group is created automatically. To apply a policy right click on first administrative group and then click new and select the system policy container.
Now right click on the policy container and select mailbox store policy; click ok; and then name it as First storage group first store (or put any name) and click on limit and set details.
How to make a front end server?
To make a front end server you need to install exchange on a new server which is part of the domain. It can be a member server of the domain. After installing exchange you need to follow the following steps to make it work as a front end server.
Open the exchange system manager
Click on administration group and then click on first administrative group
Next click on server
Now right click on the server name (PC name)
Select the properties
Under the general tab, select the option "this is front end server"
Click ok.
Note:
Active directory user group: for mail permission use only distribution group. Security group can enjoy both mail facility and object permission.
How to create storage group?
From exchange manager, go to servers and then select the server or PC name. Next, right click on it and select storage group.
How to create mailbox store?
From exchange system manger go to the administrative group
Click on first storage group
Right click on it and click new
Name it
How to edit user's email address
From the active directory select the user. Right click on the user name and then click on properties. Next, click on email address and then select the email address and then click on edit button.
How to add the existing email to a new user?
From the exchange system manger select the deleted users. Right click on it and select re-connect.
How to move mailbox from one store to another?
If the storage is full, we can move the mailbox of a user from current to a new mailbox store.
The following procedures need to be followed to move a mailbox:
Find the user from the active directory
Right click on that user and select the exchange tasks
Move mailbox
Check the create a failure report
Click on next and finish.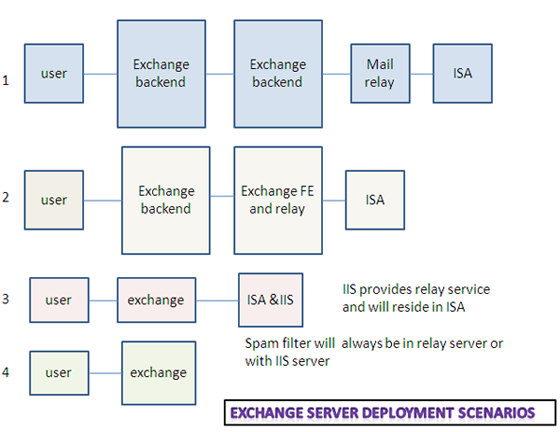 How to create routing group?
Open exchange system manager
Click on first admin group under the administrative group
Click on routing group and right click on it.
Select new routing group and name it
Click ok
How to create SMTP connector?
Click on first administrative group in your exchange manger
Next click on first routing group
Under the first routing group click on connectors and then right click on it and click on new.
Select SMTP connector and name it
Select forward all mail through this connector.
Give the relay server name or the IP of the relay server.
Add local bridgehead server
Add the backend /frontend server according to the presence of frontend server.
Now click on the address space tab of the SMTP connector
Click ADD and then select SMTP
Click Ok
Email domain should be: * (where * means any domain)

How to add MX record in DNS?
Open your DNS server
Right click on the domain name
Select new mail exchanger (MX)
New resource record
Put the domain name on host or child domain section
Set mail server priority (if more than one relay is there)
Browser the fully qualified domain name of your mail server
Click ok.
Note: if front end server is missing then backend server works as bridgehead and relay is smart host.
When front end server is there then frontend works as a bridgehead server and relay is smart host.
What is open relay?
By using open relay any one can send email.
How to stop open relay?
Click on first admin group
Servers, server name (click on it)
Click protocols
Select SMTP
Default SMTP virtual server
Right click on properties
Access
Relay restrictions, relay
Disable allow all computers which successfully authenticate to relay.
Enable the option of only the domain users can use this relay to send mail.
How to take backup of exchange?
Go to command prompt
Type ntbackup
Or you can go to system tools and then click on backup
Once back up wizard open, select let me choose what to backup
Next select MS exchange and click on the plus sign and then select the Microsoft information store
To take system state data you need to select the system state under My Computer.
Click on next  and allow time to complete the backup.
How to add other domain users in exchange?
Open the OU and click on contact
Click on New and name it; click Next
Email, modify, SMTP, click OK
Add the email address in the Internet address properties
How to move mail boxes to a different store?
Open mailboxes
Select the user name and right click on it.
Click exchange task
Move the mailbox
And select the new store location.
Or you can use the active directory to move a mailbox. Open the user in the active directory.Right click on the user name and open the exchange wizard. Then move mailbox and click next.Select the new store and then click OK.

How to configure a mail forwarder?
By using mail forwarding option, you can forward email of a specific user to his another email account. To do so, use the following procedures:
Find the user in the active directory
Go to user properties and the click exchange general
Click on delivery option
Select forward to
Click on modify
Find the user
Deliver messages to both forwarding address and mailbox of the intended user.
Click OK and Apply.
How to create user profile using outlook express?
Go to control panel
Click on user account and then click on mail
Click on ADD to add a profile name.
Click OK an then type your name, email address and password
How to forward an email to a different domain?
Right click on the OU and click New
Select contacts
Fill out the name and display name and click Next
Click on modify
Select SMTP address and OK it
Type the email address of the other domain.
Click Apply and OK.
How to hide a user from global address list?
If you do not want to show a user to a global address book of MS outlook follow the following steps:
Right click on the user from active directory
Click on properties
Select exchange advanced
Select the hide from exchange address list
Ok.
How to save out of office message in MS outlook?
Open MS outlook
Click Tools
Out of office assistant
Select I am currently out of the office
Auto reply
Type any message you want to show
Ok
How to set up outlook express for a client?
Open your outlook express.
Click on Tools
Select account
Click on ADD, select Mail and then type Display name
Click Next and select POP3
Type exchange server IP in the incoming mail
Type exchange server IP in the outgoing (SMTP)
Now type the account Name or leave it as it is
Type the password.
Note: If POP3 is not running type services.msc after opening cmd and then enable the POP3.IMAP4 also need to be enabled for outlook express.

What is MX record?
A MX record is a DNS record that tells other computers your email server IP and name so that you can receive SMTP email. Transferring messages between SMTP host depends o DNS.
What are routing groups?
Routing groups are groups of servers running exchange that are connected over permanent network links. We use routing group connection to send mail from our domain to any other domain.
What is circular logging?
By default it remains disable. It is a feature which allows log files to be over written by the new log files after the transaction in database. To enable circular logging, select first storage group and then click on properties. Next, select enable circular logging.
What are exchange recipients? Mailbox enabled users are called exchange recipients.
What is the function of front end server?
It basically forward email to ISA but keep no user database or mail storage. The purpose of front end is to add extra security feature to the exchange environment.
Outlook express: it is used for checking mail in exchange environment which is rarely users. It is used specially for checking mail from outside via Internet. MS outlook is called MAPi client which is best matched solution for checking mail locally in an exchange environment.
Transaction log files?
Exchange information store maintains exchange database. If exchange information is down then exchange server will remain down.
Back up: for exchange restoration, you need to take backup of both system state data and information store.
Bridgehead server: a server within a routing group that exchanges directory updates with a server in another routing group. A routing group connector can have single or multiple local bridgehead servers, or no local bridgehead server defined. If you want all mail to flow through one computer for the purpose of message tracking or archiving, a single local bridgehead server is appropriate. Multiple bridgehead server provide load balancing or fault tolerance in the event of a bridgehead server failure using bridgehead servers helps you control which server send and receive messages between routing groups.
FormWikipedia: Form is the shape, visual appearance, or configuration of an object. ?